ARTICLE UNDER CONSTRUCTION - WE ARE MOVING OUR KB FROM THE COMMUNITY BACK TO THE SUPPORT SITE. THANKS FOR YOUR PATIENCE.

Setup Instructions Overview
This is the digital setup instructions for the Blue Series Smart Fan Switch (On/Off or Dimmer) on the SmartThings platform.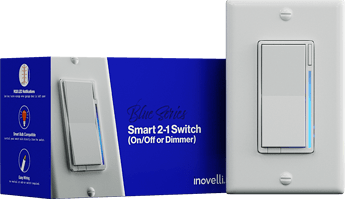 ---
Navigating the Instructions
Please click on any of the sections in the Table of Contents to get started. We recommend working your way down as it follows an intentional flow that is user friendly and hub/gateway specific.

As always, any questions, please see the Additional Resources links section or submit a ticket, we're happy to help.

---
Quick Setup Instructions

Follow these if you have already installed the 2-1 switch before and are just looking for some quick pairing instructions. If this is your first time installing the 2-1 switch, please skip this section and work your way through the various sections below starting with the Prerequisites.

This section assumes the following:

You've installed the Edge Driver

You've wired the switch and it works manually

Let's begin:

Make sure your switch LED is pulsing blue – if it's not, hold down on the configuration button (located at the top right of the switch above the LED bar) and then the top of the paddle (ie: the on portion) for approximately 20 seconds until it turns/flashes red – then release the config button followed by the top of the paddle and wait a couple seconds

With your LED pulsing blue, open up your SmartThings App to the, "Devices" tab and click on the + at the top right

Click, "Add Device"

Then under, "Scan for nearby devices" click, "Scan"

SmartThings should then search for, find and initialize the switch

---
Prerequisites
The only prerequisite to pairing this switch is the following:

Installation of the Device Edge Driver

While this switch will also pair without it, for full functionality, you'll want to install the Edge Driver.

Device Handler Installation

As of October 15th, Device Handlers will no longer be allowed to be installed on the SmartThings platform. For more information please see the following community post in the ST forum: The End of Groovy Has Arrived - Announcements - SmartThings Community

Because of this, we are recommending you install the Edge Driver using the directions below.

Device Edge Driver Installation

To install the Edge Driver, please follow the instructions below:

Click on the following link Samsung Edge Driver Access 221 and sign into your Samsung account (you may have 2-Factor Authentication on – if so, please follow the directions Samsung gives you to attain a code)
Next, click, "Enroll" by the hub your devices are paired to


Next, click, "Available Drivers"

Finally, click on the driver you'd like installed by clicking, "Install" (NOTE: In this case, please install, "Inovelli 2-in-1 Blue Series"
Now when you pair your switch, it should automatically pick up the Edge Driver. Feel free to move onto the next section of the Setup Instructions below.